What we do
The mission of Scott's PPE Recon, Inc. is to establish a business that operates in congruence with the ideals the owner holds as a career employee of the fire service.
With dedication, loyalty, honor, integrity, pride, motivation, attention to safety and quality of care, we will continue to establish a reputation of excellence with our customers, employees, and partners for mutual business success. We will continue to collect feedback, utilizing a results-oriented approach, in an effort to assure a quality end product satisfaction. The service we provide to our customers is and will continue to be fair, friendly, and honest.
We are here to service all of your PPE needs.
We have 24 full-time employees with a combined sewing experience of over 150 years! We understand that all PPE gear is needed ASAP and we meet that challenge on a daily basis. We will work with you and your schedule. Our average turn-around time is 1-7 days from received to delivery. We have multiple weekly routes throughout the state - free pick up and delivery is included.
Meet the Owner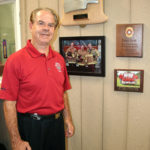 The owner of Scott's PPE, Ralph Scott, was an active duty fire captain in Contra Costa County, California, when his fire department's operations chief asked him to develop a program for cleaning and repair of the department's personal protective equipment - turnouts. With over 20 years of sewing experience as owner of Scott's Upholstery & Garment Repair, he was the obvious choice for the project. At the time, his department was using turnout gear manufactured by Globe Fire Suits, so Ralph scheduled a trip to Globe's facility in New Hampshire.
Save
Save
Save
Save
Save
Save
Save
Save
Save
Save
Save
Save
Save